"

Classic rock has been brought forward to the 21st century"
— DeadPress.co.uk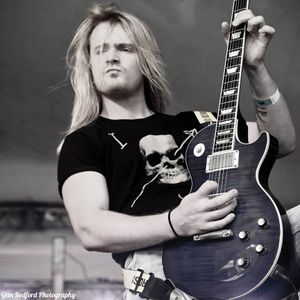 From the ashes of Ruff Justice & PsychoHero, two bands celebrated on the London club circuit from 2006 to 2009, Tommy Justice brings his brand of unapologetic classic rock and metal style of music to you!! 
The debut Album 'Setting Fire to History' was produced by John K  (Biomechanical - albums as co-produced by Chris Tsangarides - Judas Priest, Black Sabbath and Andy Sneap, Megadeth).   
'Setting Fire to History' showcased Tommy Justice's hard-hitting Stadium Rock songs, with a solid sensibility for memorable melodies and pure Rock feel which Tommy is passionate for. 
Setting Fire to History gained stellar reviews such as: 
"Classic rock has been brought forward to the 21st century; it's like it's the 80s all over again. Tommy Justice has proved that classic rock still has a place in today's music and that he can create a great album as a solo artist. His latest effort, 'Setting Fire To History', not only shows how far he has come as an artist, but how refreshing it is as an album." 
-DeadPress.co.uk 
"Setting Fire To History is a mighty fine debut album that deserves to get Tommy Justice heard amongst the wider hard rock community…so what are you waiting for, go listen!" 
-MayTheRockBeWithYou.com 
The band features world-class musicians such as Steve Wallace (Guitars) Ritchie Scott (Bass) & Alex 'Budgie' Budge (Drums),  and have toured in support of the debut album with an incredibly successful debut gig at the iconic 'Square Club'. 
The forthcoming years would see TJ share the stage with the likes of ASIA, 10CC, Jethro Tull, Martin Barre to name a few. 
In 2018 TJ enlisted John K to sit in the producer's chair once again and released his second full-length album entitled 'Rockturnal'!! 
'Rockturnal' features guest appearances from Martin Barre (Jethro Tull) on bonus track 'If I Could Change' and critically acclaimed violinist Anna Phoebe (as featured with Aerosmith) on the new track 'Where The Two Roads Part'.  
This brand new album by Tommy Justice is once more offering an unapologetic Rock sound to the masses and  it is set for release on 
ROCKTOBER 2018!!!